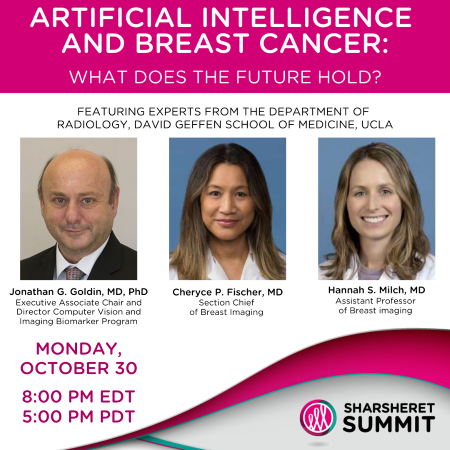 Go beyond the headlines and learn more about how artificial intelligence is playing an increasing role in the cancer field. Learn more about how AI is improving cancer screening and diagnosis with our panel of physicians leading the research at University of California, Los Angeles.
Featuring our panel of experts from Department of Radiology, David Geffen School of Medicine, UCLA:
Jonathan G. Goldin, MD, PhD, Executive Associate Chair and Director Computer Vision and Imaging Biomarker Program
Cheryce P. Fischer, MD, Chief of Breast Imaging
Hannah S. Milch, MD, Assistant Professor of Breast Imaging
Click here for the transcript of this webinar. Click here for the slide deck used in this webinar.
Dr. Jonathan Goldin is a Professor of Radiology, Medicine and Biomedical Physics at the David Geffen School of Medicine at UCLA. He holds the title of Associate Chair of the Department of Radiological Sciences at UCLA. He is Chief of Radiology for the Santa Monica-UCLA Medical Center, Chair of Diagnostic Services for the  Martin Luther King Jr. Community Hospital and Director of Computer Vision and Imaging Biomarkers Group. Dr. Goldin trained at the University of Cape Town Medical School obtaining his MbChb in 1983.  He completed his post-doctorate in Pulmonary Medicine (PhD) in 1990.  He then completed his postgraduate training in Diagnostic Radiology in 1994 at the St Bartholomew's Hospital in London, England and his Fellowship in Thoracic Radiology at the University of California, Los Angeles.  He joined the Faculty at the Department of Radiology, the David Geffen School of  School of Medicine at UCLA, in 1995. Dr. Goldin's research has focused on the development validation of quantitative imaging. He has received both NIH and Industry funding for his research, and the Principal Investigator (PI) and Co-Investigator (Co-PI) for over 40 funded studies. Dr. Goldin has over 200 published papers (peer reviewed) and 13 published book chapters.

Dr. Cheryce Poon Fischer is a Diagnostic Radiologist specializing in Breast Imaging at UCLA. She has over 23 years of experience in Breast Imaging and is presently Section Chief of Breast Imaging at UCLA and the Medical Director of the Iris Cantor Breast Center. She also holds the Iris Cantor Chair in Breast Imaging at UCLA. Dr. Fischer's interests are focused on patient care and teaching, having trained over 85 Breast Imaging Fellows and innumerable residents in breast imaging. Dr. Fischer and her expert team of Breast Imagers have been investigating AI and breast cancer screening for many years. She is excited to soon be working with an AI system dedicated to mammography at UCLA.
Dr. Hannah Milch is a radiologist specializing in Breast Imaging at UCLA. She received her B.A. degree in History from Yale University and her medical degree from Boston University. She completed a diagnostic radiology residency program at Montefiore Medical Center in the Bronx, New York, followed by a breast imaging fellowship at Memorial Sloan Kettering Cancer Center in New York City. Her current research interests include expanding image-based screening access to local communities, leveraging artificial intelligence technology to improve breast cancer screening outcomes, and enhancing physician wellness.
For more information contact Erin Weinreich